Event at Multicultural Magnet School in Bridgeport April 16, 2013



Trap Falls took the Doggie Safety program to the Multicultural Magnet School in Bridgeport, Tuesday April 16th.
About 70 enthusiastic kids and parents attended the program, which focused on teaching the young students about dog behavior, how to act around dogs, approaching a strange dog and general training and benefits of dog ownership. Club President Laura Wells engaged the kids in questions and answers and explained the importance of dog obedience training and safety. Club member, Dona Campbell put her Brittanys, (who are registered Therapy Dogs), through the paces, to the delight of the children, and demonstrated obedience, and how to approach a strange dog. Thanks to Ron Egidio and Cindy Richardson, who helped with set up and demos.
The kids were so excited to have Trap Falls there, they held a raffle and raised $100 for the club, which will be donated to a local shelter. Additionally, the feedback Trap Falls got was so positive, that the school invited the Club to return next year to do another program.
This particular program at the blue-ribbon Multicultural School was coordinated through the efforts of the Bridgeport YMCA and their after-school program and site coordinator, Maria Conroy, in Bridgeport as part of the JFK Lighthouse Program.





pictured from left to right:


Cindy Richardson, Laura Wells with Rikki,
Ron Egidio and in the rear, Dona Campbell
with Hannah.
---


Latest News

Article on Trap Falls Kennel Club appears in Shelton Herald!
Working with man's best friend: Shelton's Trap Falls Kennel Club


---


Do you have questions about the training, health, care and well-being of your furry best friend? You can find a ton of useful easy-to-understand advice and information on the Trap Falls Blog on the Patch. And you can, in turn, engage in community feedback and contribute your own stories and responses to our blogs.
Check out 'What You Should Never Feed Your Dog' and stay tuned to other important dog-related topics that you'll be able to find on your local patch. http://shelton.patch.com/blog_posts/keep-your-dog-away-from-these-foods
You can find our blogs on many area Patch websites in CT like Shelton, Ridgefield, Weston-Easton-Redding, Southbury, Woodbury-Middlebury, Newtown, Monroe, Stratford, Milford, Trumbull, Oxford, Bethany-Woodbridge, Bethel, Danbury, Milford, Brookfield, Naugatuck and Stratford. *
*If you want to connect with what's going on in your community and to see if your town has a Patch, check out www.patch.com


---
AKC Announces Community Achievement Award Honorees

I

n December 2011, the American Kennel ClubŪ (AKC) honored the Concho Kennel Club, Council Bluffs Kennel Club and Savannah Kennel Club with Community Achievement Awards for their outstanding 2011 Responsible Dog Ownership Day (RDO Day) events. Honorable Mentions went to the Collie Club of Maine, Northeastern Indiana Kennel Club and Trap Falls Kennel Club

.


Trap Falls Kennel Club

is an All-breed dog club located in Upper Fairfield County Connecticut. TFKC is a Member Club of the American Kennel Club. TFKC sponsors an annual all-breed point show, and Obedience, Rally and Agility Trials. TFKC also hosts Training classes where you can start your puppy off on the right paw.



Every September, Trap Falls hosts an AKCŪ Responsible Dog Ownership Day.


While education and enforcing good behavior is the primary purpose of this event, people and their dogs come to have fun, compete in matches and contests and learn about AKC shows, training, health, food, grooming, different breeds and All aspects of owning a dog. Whether you are a steadfast dog owner of a Pure-bred or Mixed breed, a prospective dog owner - or just Love dogs, RDO Day has something for every member of the family.
TFKC members are involved in all aspects of the dog world including confirmation, obedience, agility, rally, hunt trials, lure coursing, and tracking as well as therapy work.
Are you a dog person? Then join the club! Meet new friends and make connections. It doesn't matter whether you have a pure-bred pooch or a mixed breed dog - you'll be sure to gain knowledge and learn new things about your canine companion. Information about membership or training classes is available here.
---
Event For Weston Brownie Troop, Fall 2012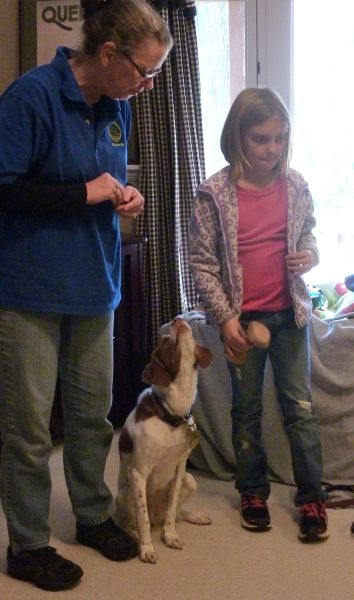 Doggie Safety and Etiquette Program

Once again, Trap Falls had a successful outing this past Fall, when President Laura Wells and club member Dona Campbell, along with her registered therapy dogs, Ricki and Hana put their best paws (and feet) forward as they presented a program on Doggie Safety and Etiquette to a Brownie troop in Weston. The girls got to participate in the demonstrations and both kids and Moms asked a lot of good questions about training. This is part of Trap Falls' ongoing public education effort to inform groups and organizations about safety and etiquette around dogs.

====================
Event At Trumbull Library May 19, 2012

A

nother successful program on Doggie Etiquette and Safety was completed Saturday May 19th at the Trumbull Library. Kids, parents and several other adults came to listen and watch demonstrations by Chris Sweetwood, Lauren Friedman and Dee Vetrano as they won over the audience with Sienna, Drago and Napoleon. One of Napoleon's nursing home clients came all the way from Torrington just to see him. The Trap Falls program also coincided with Dog Bite Prevention week (May 20 – 26), so it was very timely.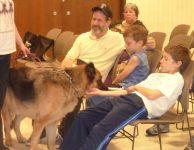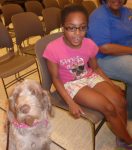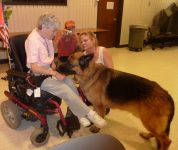 ====================

HUMMELSTOWN, Pa., May 16, 2012 -- /PRNewswire-USNewswire/ -- The American Veterinary Medical Association (AVMA) is hosting its annual Dog Bite Prevention Week in order to bring awareness to the almost 5 million dog bites that occur per year across the nation.
Teaching children how to interact with dogs—even if you don't own one—can go a long way in preventing injury. Kids aged 5-9 years old are most often the ones injured, and usually the dog that bit them is not a stranger. The AVMA estimates that of the children under the age of 18 who have been bitten, family dogs are responsible for 30% of the bites, while the neighbor's dog is resonsible for another 50% of the bites.
PVMA veterinarian Dr. Bryan Langlois recommends, "Always prevent toddlers and young children from playing around or going near your dog's food and water bowl. Some dogs can become food possessive and bite or attack your child in defense of his/her food. The same caution should be taken with toys, treats, or rawhides."
Tips from the AVMA include:
• Carefully select your pet. Puppies should not be obtained on impulse.
• Make sure your pet is socialized as a puppy so it feels relaxed around people and animals.
• Don't put your dog in a position where it feels threatened or teased.
• Train your dog. Basic commands help dogs understand what is expected of them and can be incorporated into fun activities that build a bond of trust.
• Walk and exercise your dog regularly to keep it healthy and provide mental stimulation.
• Avoid highly excitable games like wrestling or tug-of-war.
• Use a leash in public to ensure you are able to control your dog.
• Keep your dog vaccinated against rabies and preventable infectious diseases. Parasite control and other health care are important because how your dog feels affects how it behaves.
• Neuter your pet.
• Make sure gates are secure.
For more information on dog bite prevention, visit http://www.avma.org/public_health/dogbite/ for helpful tips and resources for the whole family.

http://blogs.webmd.com/pet-tales/2012/05/dog-bite-preventio.html
====================
Event at Stratford Library January 28, 2012
Stratford Library hosted a program presented by Trap Falls Kennel Club of Shelton CT on Doggie Etiquette Saturday Jan 28. Kids and parents learned the do's and don'ts of Dog Safety, Behavior and effective communication between humans and their canine companions. Registered Therapy Dogs (certified by Therapy Dogs International) along with their expert handlers, Lauren Friedman, Chris Sweetwood and Dona Campbell, demonstrated the importance of training and basic safety. Additionally, demonstrations in Obedience and Rally showed the young audience how they might one day compete for points and glory in the show ring.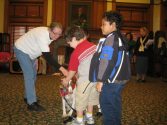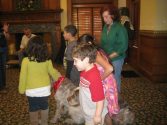 Doggie Etiquette Program at Stratford Library: Big Success
====================


Event at Fairfield Public Library Sat Aug 13, 2011

Our popular education program on Dog Training, Behavior and Communication met with great success at the Fairfield Library on August 13. TFKC President Laura Wells welcomed kids and parents as some of our experts demonstrated the How To's of training in Obedience, Rally and Canine Good Citizenship (CGC). Club members Chris Sweetwood, Lauren Friedman, and Dona Campbell, along with their dogs (who are certified by Therapy Dogs International) showed the captivated young audience, and their parents, the many ways we communicate with our dogs and how to best train them for optimal results. Junior club member Cameron Marro assisted and showed that age doesn't matter when it comes to successfully communicating with your furry friend.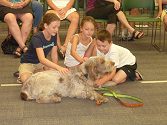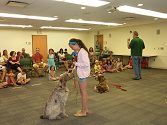 ====================


Event at Gunn Library April 2, 2011
TFKC's Presentation on Behavior, Training and Communication at the Gunn Library in Washington CT on April 2 drew a great crowd. They asked a lot of good questions and were rewarded with a ton of useful information on training and communication tips, along with demonstrations from TDI (Therapy Dogs International) specialist and evaluator, Dona Campbell; Scott Kovack and Club President Laura Wells who presided over the program. Dona brought her Certified TDI Dogs, Hana and Ricky who showed the audience of children and parents how dogs should behave with the proper instruction and communication. Dona also talked about Canine Good Citizenship and the steps necessary get the certificate and talked about Therapy Dogs and their benefit to the community. Scott Kovack showed off his Rottweiler, Hans, and his expertise in Rally competition and obedience. The kids and parents had a great time and TFKC was asked back to help with the library's READ program. If any club member and his/her dog would like to participate in this program, please contact Cindy Sherman at 203-558-5911. Just remember, your dog must be certified through TDI or Delta Society. .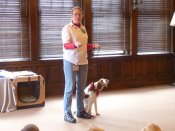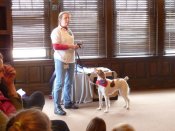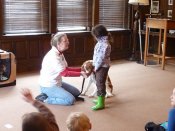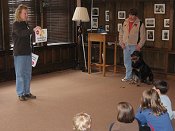 The auditorium at Silas Bronson Library in Waterbury was the site of Literacy Volunteers of Greater Waterbury's (LVGW) program, "Alphabet Explorers", on Saturday November 20. The featured letter was "D" for Dogs and LVGW and Trap Falls Kennel Club of Shelton CT teamed up for this event.

====================

Trap Falls Kennel Club and Literacy Volunteers of Greater Waterbury join in successful Family Literacy program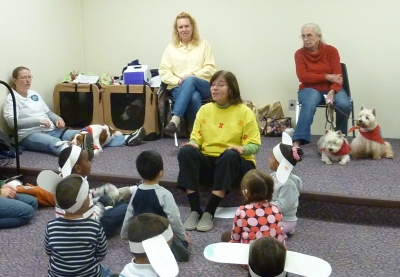 | | |
| --- | --- |
| | Two members from the Kennel Club came with their Therapy dogs (certified by Therapy Dogs International) as over 20 families and a team of West Highland White Terriers and Brittany Spaniels listened attentively to dog stories. Dona Campbell and Chris Durgin who brought their Canine companions, explained to the young audience the Do's and Don'ts of approaching strange dogs and demonstrated obedience and tricks. After the reading session, the eager young listeners were allowed to pet and sit with the attention-loving dogs. |
LVGW is on a roll with this very successful pilot program. LVGW Executive Director Tina Agati, and accompanying Program Director, Vanessa Vowe, started this family literacy program, which features specific letters and books/themes each month. Youngsters and their parents are invited to come and listen to stories on the designated theme, in hopes of encouraging reading and discovery.
Literacy Volunteers of Greater Waterbury
http://www.lvgwct.org/index.html


is a non-profit organization whose mission is to teach adults how to read, write, and speak English so that they may achieve personal, educational, employment and civic goals within their community.