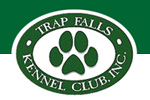 We want you to participate in the Club Activities! Join in!
Whatever what you do with your dog or yourself to contribute to the dog world, you can earn credit points that will be tallied up quarterly. Awards for cash or gift cards will be presented our annual Holiday party at the end of the year.

We have checked with our accountant and cash incentives are not prohibited.

There will be mandatory requirements to earn credit points, they are as follows:

1) Members will be required to attend the monthly general meeting to tell us about the title or service that was participated in the previous month to qualify.

2) The member submitting the activity or title earned in any given month, MUST provide a photo and a "brag" write up and must submit it to Cindy Richardson for the website and Chris Sweetwood for the newsletter. The "brag" will be published in the newsletter. We will have an Achievement Award tab on our website and it will go on the website.

3) Deadline for submission is 2 months after the activity or title you have participated in or earned. End of year lumping will not be accepted.



There will be 3 distinct divisions of activities: some examples are listed below. These examples are not limited to these so please submit all dog activities to us!

1) AKC Performance Events - titled events thru AKC

2) Public Education - RDO Day, Meet the Breed, Sound Tigers

3) Public Service - Library visits, Read to kids programs, therapy work, stewarding at a show

We look forward to seeing your brags! Send the brags to Cindy and Chris.